one6G co-organizes a workshop on sustainability and QoE management
On June 23, 2023, one6G members Thomas Zinner (NTNU Norway) and Susanna Schwarzmann (Huawei) co-organized and moderated the Workshop on Sustainability and Quality of Experience (QoE) Management. The workshop was co-located with the 15th International Conference on Quality of Multimedia Experience (QoMEX 2023). One of its key objectives was to create stronger synergies between networking communities, such as one6G Association, and the QoE community by providing a common venue for exchanges. With short but penetrating lightning talks, the workshop participants triggered important questions and points related to user experience and sustainability, which resulted in a lively and fruitful discussion.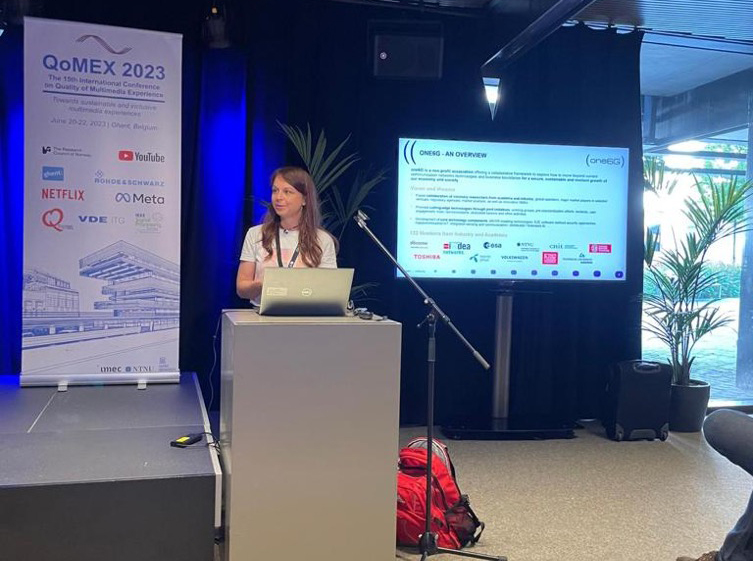 Sustainability is one of the biggest challenges faced by today's society. Complex and spanning a broad range of goals, it ultimately aims to preserve our ecosystem. The solutions to achieve sustainability need to be designed from a holistic, cross-disciplinary point of view with economic, ecological, and societal factors in mind. Like in many other sectors, sustainability must now play a key role also when it comes to the design and development of 6G networks.
As it is worth investigating sustainability as a standalone topic within one6G, the Association's board has recently approved a new Work Item "Sustainability" within Working Group 2.  In this context, during the Workshop, a presentation about one6G Association took place, covering its vision and mission, main activities (e.g., open lectures), and plans. More about the workshop, here.
With the active promotion of the newly established Work Item, one6G hopes to attract new partners from academia and industry and foster collaboration aiming at the development of novel core technologies which will enable sustainable 6G networks.
About QoMEX 2023
The 15th International Conference on Quality of Multimedia Experience was held on June 20-22, 2023, in Ghent, Belgium. The event brought together leading experts from academia and industry who presented and discussed research on multimedia quality, quality of experience (QoE), and user experience (UX). This fostering of the exchange between multidisciplinary communities aims to contribute to excellence in developing multimedia technology.