one6G Summit 2021 – Recap & Highlights
On November 10, 2021, just six months after its establishment, the one6G association organized its first one6G Summit. The event brought together international leaders from policy, industry, and academia to explore critical points in the world's journey towards 6G. According to the association's Chairwoman Nancy Alonistioti, the one6G Summit proved to be the venue for the drivers of 6G evolution and the tenets that define the vision for cross-industry co-creation of 6G. The Summit gathered 24 high-level speakers and more than 400 participants from around the world.
During the Summit, the association's members presented early 6G prototypes, and the first one6G position paper was released. Do not worry if you missed the event, you can review the recordings of all sessions below. The speakers' presentations can be accessed from the agenda below as well.
Only six months since its inception, the association already counts 40 key industrial players and universities as members, bringing together research excellence from verticals, ICTs, SMEs, and academia. With the ambition to run joint innovation and development activities and define and harmonize use cases for 6G technologies, one6G warmly welcomes all interested parties to join the association in its journey toward next-generation communication systems.
Panel on 6G Vision and Key Values

Moderated by Rahim Tafazolli, (Univ. of Surrey and 6G IC)
Participants from the previous session
6G Public Network Services
Subscribe to the one6G newsletter to stay up to date on the association's activities and benefit from the most comprehensive conversation on where 6G is going and why it matters.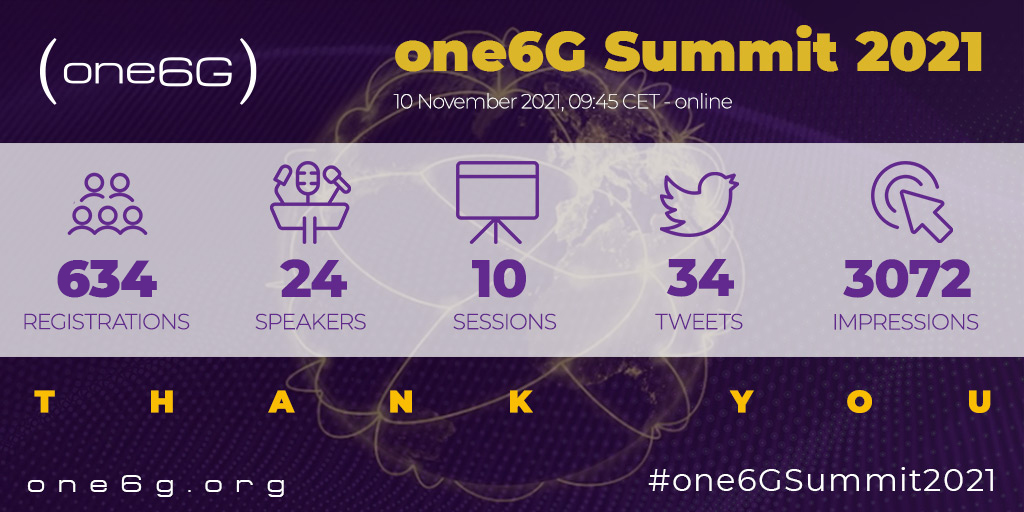 About one6G
one6G envisions a future where 6G technologies and solutions allow to unleash the potential of smart connectivity for a secure, resilient, and sustainable development of our economy and society​.
Founded in early 2021, one6G aims to evolve, test, and promote next-generation cellular and wireless technology-based communications solutions. By supporting global 6G research and standardization efforts, the goal is to accelerate its adoption and overall market penetration while addressing societal and industry-driven needs for enhanced connected mobility. The association's ambition is to speed up the development of new services and applications in domains, such as advanced autonomous driving, advanced manufacturing, advanced wireless e-health, and remote education.